Azmaya's Rice Scoop


Shamoji is something that is necessarily used when the rice is ready. As to allow users to confidently use up the product, Azmaya selected materials with beautiful barks from domestic, natural growing woods, avoiding any coloring and finishing using barks that are polished solely through craftsmen's manual work.

A masterpiece that is simple, and therefore, conveying the texture of the carefully selected materials and the Japanese craftsmen technology.

Shamoji is a special product representing Miyajima and interpreted as a tool that "scoops fortune." Please make use of Azmaya's Rice Scoop not only at home but also for celebrations.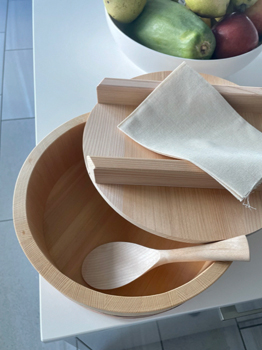 The order was perfect. Very fast shipping, and very high quality. Also the website provides very nice detailed images about each product!
E.L. from USA

This item is usually shipped in 3 business days. If shipping is delayed due to a shortage, we will inform you of the estimated shipping date.

Azmaya's Rice Scoop is made in Miyajima, the place where Japanese rice scoop "Shamoji" originates. Further, Miyajima is the biggest production place of wooden rice scoops in Japan.








Azmaya
Rice Scoop #6.5

Size: About L195xW58mm
Material: Catalpa

*Place it in water for a few minutes before using.

Price: 1,800 JPY




Azmaya
Rice Scoop #7

Size: About L210xW63mm
Material: Catalpa

*Place it in water for a few minutes before using.

Price: 2,000 JPY
Azmaya
Founded in 1997, Azmaya continues to create beautiful commodities, high in quality, applying the Japanese crafts technologies, and has now become one of the finest craft brands in Japan.