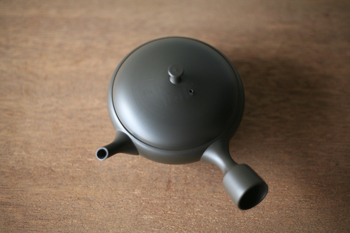 Susumuya
Teapot
All parts of the teapot, including the mouth, the cover, and the handle, are made by Mr. Tatsuo Umehara using hand-potter's-wheel. The teapot is unglazed, and it produces a soft black color, rather close to brown color, a color produced only by red stoneware. The tea incus traction coats the teapot through many uses, gradually turning the color unto a profound black. The side opposite to the mouth has a cut as to allows users to easily throw away the used tea leaves.
Size: Ø120xW196xH69mm
Capacity: About 270ml
Weight: About 310g
Material: Udei
Production: Tokoname City in Aichi Prefecture (Hokuryu Kiln)
*As it is produced through yakishime (densification), which utilizes neither potter's wheel nor glaze, there may be slight unevenness on the surface. Further, each may differ in forms and color. We kindly ask you to understand it as a taste of handwork.
Price: 8,500 JPY