Seiryugama's Sencha Cup


Hirashimizu ware flourished during the Bunka period (1804-1818) in Hirashimizu, a district that locates in the south-west area of Yamagata City and at the southern foot of Mount Chitose, a mountain entirely covered with pine trees.

Seiryugama (Seiryu kiln), pottery that follows the tradition established by the founder of Hirashimizu ware, Jizaemon Niwa, was opened during the early years of the Meiji era. Porcelain making at Seiryugama inherits the tradition by manually molding the local soils utilizing potter's wheel, while it successfully adapts to the times as well.

Nashiseiji, which was developed in 1945, received the Grand Prix at the Brussels World's Fair in 1958. Seiryugama subsequently created "Zansetsu," and the white glaze that portrayed the thawing mountain has now become a synonym for Seiryugama.


I want to thank you for packaging the pieces carefully and safely. Everything has arrived in perfect condition and the shipment has been very fast. You are my reference store in Japan ;), you do very well. I send you a hug and a lot of energy.
A.C. from Spain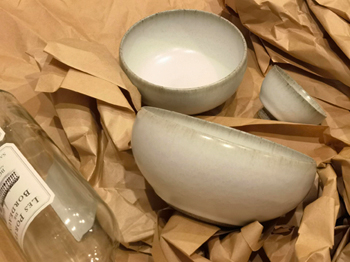 Thank you very kindly for your shipment to my US address. I am highly pleased with all of my purchases and will shop again with you soon. What lovely ware to cherish and gift! It is a pleasure to handle and work with your wares. They are practical, high quality, beautifully finished and satisfying to the touch. I will continue to enjoy them for all of their long lifetime and am proud to gift them. They keep all promises and exceed expectations: [Okai Mafu Shoten] Linen Fukin towel dries so well and leaves glassware sparkly clean. [THE] Soy Sauce Cruet will not spill a single drop, however it is handled. [Daiya] Katsubako Brush cleans my fine coffee grinds, disregarding the highly static environment at 7000ft/2000m... and so on. Thank you again! The package arrived in under two weeks and in pristine shape. All items were wrapped with love and incredible attention to detail. The [Seiryugama] Sencha Cup came with a tiny, tiny chip, but that could not have happened in transit. All other items arrived in perfect condition. I have never yet received international shipments in such good shape here. Kudos to your team! I look forward to shopping again. All best to you and Shokunin enterprise.
C.L. from USA

I'm extremely happy with all my purchases from your store and the wonderful service you provide. The high-quality products and service have exceeded my expectations. I feel very fortunate to be able to experience and use such high-quality handcrafted Japanese items in my daily life.
J.D. from Australia

This item is usually shipped in 3 business days. If shipping is delayed due to a shortage, we will inform you of the estimated shipping date.









Seiryugama
Sencha Cup

Although it is a cup for sencha, you may use as an espresso cup or a sake cup as well.

Size: About Ø7xH4.4cm
Weight: About 65g
Material: Porcelain (Maruyama Ceramic Stone)
Available: Microwave

*The size and coloring may differ according to its finish. We kindly ask for your understanding.
*The glaze may vary from piece to piece. Individual difference example
*Please note that it may produce craze over time.

Price: 1,500 JPY
Seiryugama
Established during the early years of the Meiji era. They follow the tradition established by the founder of Hirashimizu ware, Jinzaemon Niwa, while successfully adapt to the times as well.