Seiryugama's Donburi


Hirashimizu ware flourished during the Bunka period (1804-1818) in Hirashimizu, a district that locates in the south-west area of Yamagata City and at the southern foot of Mount Chitose, a mountain entirely covered with pine trees.

Seiryugama (Seiryu Kiln), pottery that follows the tradition established by the founder of Hirashimizu ware, Jizaemon Niwa, was opened during the early years of the Meiji era. Porcelain making at Seiryugama inherits the tradition by manually molding the local soils utilizing potter's wheel, while it successfully adapts to the times as well.

Nashiseiji, which was developed in 1945, received the Grand Prix at the Brussels World's Fair in 1958. Seiryugama subsequently created "Zansetsu," and the white glaze that portrayed the thawing mountain has now become a synonym for Seiryugama.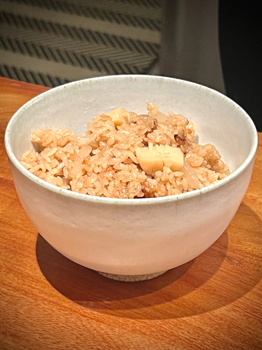 They are beautifully made and I have been using them regularly. I have attached a picture of one of the bowls holding a meal I cooked in a donabe that I purchased from Shokunin.com in 2017 and have used regularly since. It brings me joy to use these items.
J.M. from USA

I'm very happy with all the products, I'm super impressed with the packaging, all the protection your team has done to ensure the bowls and containers to reach my hands safely, i'm truly impressed. I have read the reviews on your website that your team would pack everything nicely, so I didn't need to worry anything about the products not being in a good shape. Previously I have tried purchasing japanese ceramics from Rakuten, getting it shipped to Hong Kong by a forwarding company, unfortunately, quite a lot of them were broken. The products are of exceptional quality, the Donburi bowl is such a beauty, the size is just the right size for a bowl of noodles, or a big bowl of soup! the smaller bowl is also super handy, sometimes i will use them as a rice bowl, or holding small dishes. The straw pot stand is nicely made, I love the straw smell, and the S size suits so many pots and oven dishes! The enamel containers, they are very handy kitchen tools, especially with the lids! The peeler is also of superb quality! I'm super pleased with all the products, and I'm eagerly looking forward to be shopping in Shokunin.com again, and hope Shokunin.com can sell more ceramics products from Japanese ceramist!!
V.H. from Hong Kong

One of the best thing during the pandemic was receiving the package from Shokunin.com, which absolutely comforted my the hole in my heart resulted from not being able to travel to Japan. I miss Kyoto too. Looking forward to receiving my second order this time. May your business grow and bring prosperity.
L.C. from Taiwan

This was my second order from you and I love it all. I look forward to my next order!!!!
C.T. from USA

This item is usually shipped in 3 business days. If shipping is delayed due to a shortage, we will inform you of the estimated shipping date.













Seiryugama
Donburi

It is an adorable sized bowl, but it has a certain height, so it can hold a sufficient amount of rice.

Size: About Ø140xH90mm
Weight: About 400g
Material: Porcelain (Maruyama Ceramic Stone)
Available: Microwave

*The size and coloring may differ according to its finish. We kindly ask for your understanding.
*The glaze may vary from piece to piece. Individual difference example
*Please note that it may produce craze over time. Here

Price: 4,500 JPY
Seiryugama
Established during the early years of the Meiji era. They follow the tradition established by the founder of Hirashimizu ware, Jinzaemon Niwa, while successfully adapt to the times as well.