Rikucho Ogasawara's Nambu Wind Bell


A wind bell of Nambu Ironware left by Mr. Rikucho Ogasawara, a caster born in Mizusawa, Iwate Prefecture. Its timeless, simple shape and the beautiful sound it makes are what Nambu Wind Bell is particularly good at.

Since 1963, every summer, 1500 various Nambu wind bells created at JR Mizusawa Station decorate the platforms, and they are chosen as '"100 selections of soundscape in Japan" that should be preserved' by the Ministry of the Environment.


Thank you very much. The order has arrived and is pleasing to our ears. And calms my soul.
M.G. from Malaysia

All of the products are wonderful, and I am very satisfied. I am especially fond of the kyusu, which I use everyday. The frying pan is quite small, but I have been learning to make different things in it. I won't be putting the bells (fuurin) out until the weather is better, but I have ordered some a few years ago and know how they sound. I very much appreciate your site and look forward to using it again in the future. I think your website is doing a great job of introducing products that people outside of Japan cannot normally buy.
N.C. from USA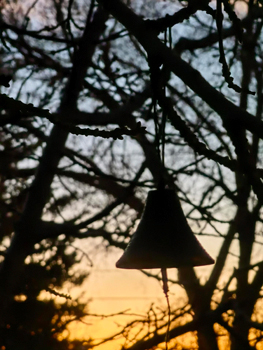 Thank you very kindly for your shipment to my US address. I am highly pleased with all of my purchases and will shop again with you soon. What lovely ware to cherish and gift! It is a pleasure to handle and work with your wares. They are practical, high quality, beautifully finished and satisfying to the touch. I will continue to enjoy them for all of their long lifetime and am proud to gift them. They keep all promises and exceed expectations: [Okai Mafu Shoten] Linen Fukin towel dries so well and leaves glassware sparkly clean. [THE] Soy Sauce Cruet will not spill a single drop, however it is handled. [Daiya] Katsubako Brush cleans my fine coffee grinds, disregarding the highly static environment at 7000ft/2000m... and so on. Thank you again! The package arrived in under two weeks and in pristine shape. All items were wrapped with love and incredible attention to detail. The [Seiryugama] Sencha Cup came with a tiny, tiny chip, but that could not have happened in transit. All other items arrived in perfect condition. I have never yet received international shipments in such good shape here. Kudos to your team! I look forward to shopping again. All best to you and Shokunin enterprise.
C.L. from USA

I'm extremely happy with all my purchases from your store and the wonderful service you provide. The high-quality products and service have exceeded my expectations. I feel very fortunate to be able to experience and use such high-quality handcrafted Japanese items in my daily life.
J.D. from Australia

Hi, I am very satisfied with the products, thank you very much.
O.K. from Malaysia

Just emailing to let you know the Furins have arrived and they are so beautiful! I love them and their sound so much. I can't wait to hang them up. So excited :) Many thanks for your prompt service during Covid-19 pandemic. The bells arrived within just over 1 week. Have a lovely day!
E.F. from New Zealand

This item is usually shipped in 3 business days. If shipping is delayed due to a shortage, we will inform you of the estimated shipping date.








Rikucho Ogasawara
Nambu Wind Bell Kasa

Size: About Ø55xH45mm
Weight: About 100g
Material: Cast Iron, Paper

Price: 1,000 JPY




Rikucho Ogasawara
Nambu Wind Bell Kai

Size: About 40x50xH45mm
Weight: About 80g
Material: Cast Iron, Paper

Price: 1,000 JPY
Rikucho Ogasawara
Produces Nambu ironware which Rikucho Ogasawara, who was a representative at Ogasawara Foundry, designed. Even after Mr. Ogasawara passed away in 2012, ironware with beautiful design and that is deeply rooted in people's lives are continuously being made.