Watanabe Mokkogei's Chabon


In the southern part of Toyama Plain, Fukumitsu, Watanabe Mokkogei has been making beautiful fork crafts called Shogawa Hikimono Kiji since 1950.

A carefully selected unpainted wood which is not painted lacquer or oil, is finished by only manual polishing.

Please enjoy the texture of natural materials in your everyday life.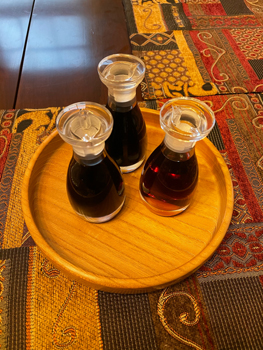 The bottles of soy sauce set up nicely.
S.Y. from USA (Chabon S and THE Soy Sauce Cruet)

Everything is perfect as always. I love the table (Oak Village's Oritatami Kozukue). It's just as I expected it.
F.D. from USA

I love the tray very much, size is just right for my teapot and a tea cup, and it is so elegant.
M.T. from Canada

This item is usually shipped in 3 business days. If out of stock, we will inform you of the estimated shipping date.










Watanabe Mokkogei
Chabon S

For 1 or 2 people.

Size: About Ø19.5xH2.7cm
Weight: About 220g
Material: Zelkova

Price: 6,000 JPY







Watanabe Mokkogei
Chabon L

For 2 or 3 people.

Size: About Ø24.3xH3cm
Weight: About 420g
Material: Zelkova

Price: 15,000 JPY
Watanabe Mokkogei
Founded in 1950 in Fukumitsu, Toyama Prefecture. Works on integrated production of beautiful folk crafts of Shogawa Turnery, a traditional handicraft of that region, practicing from the grain making to the lacquering. They received an encouragement award from The Japan Folk Crafts Museum.