Handmade pens that can live together


A beautiful, handmade pen that would take your breath away as you hold it. These fountain pens and ballpoint pens are produced by Mr. Keizo Onishi at Onishi Seisakusho, who has been handling writing implements in one corner of Higashiosaka, where conventional, small-scale factories stand next to each other. Mr. Onishi has been involved in the production of writing implements for more than half a decade since he was 15 years old.

The strong point of the handmade pen by Onishi Seisakusho, which is made of an environmentally friendly material called acetate, is the one and only one patterns unique to each individual pen and the special feeling that users would feel when the pens perfectly fit into their hands.

By using the pens, which are made solely by Mr. Onishi, who starts from the process of cutting the material into the size of the pen and consequently completing tens of processes until the last process of grinding, users could feel something that could be described as the soul of craftsman. It truly is a pen that should be used, not only for a lifetime, but for generations.
The craftsman, Keizo Onishi


After retiring a stationery company at age limit, Mr. Onishi became the pupil of Mr. Kiyoshi Kato at the age of 65, who was from Kato Seishakusho Company and who was known as the most prominent fountain pen craftsman.

Mr. Kato has, regrettably, passed away in 2010, and in the following year of 2011, Mr. Onishi's workshop, Onishi Seisakusho, was established. When established, machines and tools used at Kato Seisakusho Company were all inherited. Mr. Onishi's is truly skillful, so much that his teacher, Mr. Kato, has told him during his lifetime that he has nothing more to teach him.

The pens produced by Mr. Onishi inherit Mr. Kato's philosophy, which aims "to produce practical fountain pens that are intended to be thoroughly used. To provide things that are cheap and good, without adding any unnecessary decoration."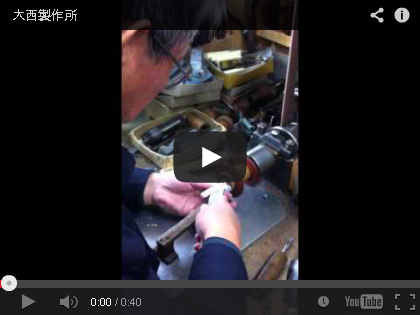 This item is usually shipped in 5 business days. If out of stock, we will inform you of the estimated shipping date.



Onishi Seisakusho
Fountain Pen Sakura

Size: About 137-156mm, Ø12-13.7mm
Material: Acetate
Nib: F

Price: 14,000 JPY
Onishi Seisakusho
Ballpoint Pen Sakura

Size: About 140x12mm
Material: Acetate
Nib: Refill P 900 F (Schmidt)

Price: 7,000 JPY
Onishi Seisakusho
There are only a few people who can make fountain pens by hand in Japan. Onishi Seisakusho's pen is known as one of the best pens in Japan. Onishi Seisakusho produces with the philosophy inherited by Mr. Kato (from Kato Seisakusho Company) in mind, which states "to make fountain pens completely for practical use, to provide with cheap and good products without any additional decoration, incorporating the greatest of all Japanese technologies."